Is Your Highlander At Risk? Learn What These Toyota Highlander Dashboard Warning Lights Mean To Find Out
Many new or pre-owned Toyota Highlander drivers experience acute concern when they notice the red light of a dashboard warning signal. Instantly, you may wonder what it means, possibly search for your owner's manual in the glove compartment, or pull out your smartphone to search "Toyota Highlander Dashboard Lights". Understanding the meaning of the warning and indicator lights is important to your peace of mind, as well as the integrity and safety of your Toyota SUV. However, since a warning light is an indication of a possible vehicle malfunction, you will want to have your Highlander checked out as soon as possible. If you have questions or concerns, the highly trained and friendly service technicians at our Atlanta Toyota Service Center are available to answer any questions you may have.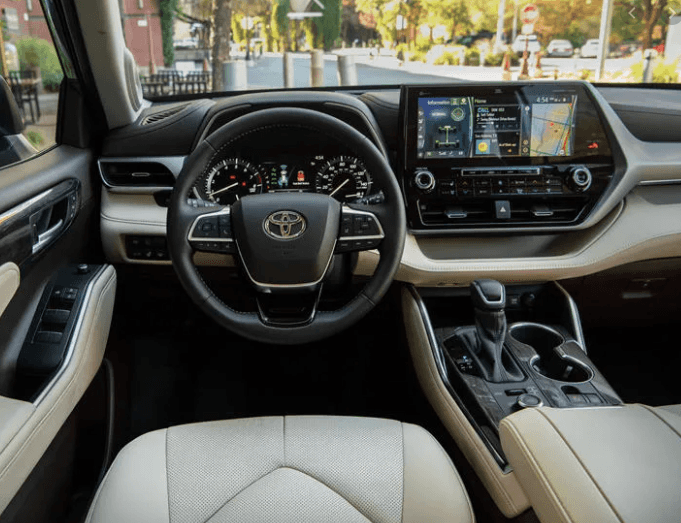 What are the 5 most common warning dashboard lights on a Toyota Highlander? 
There are many signals that may appear on your Toyota Highlander SUV dashboard, but there are some key warning lights that you should especially take notice. If you find that your warning lights are actively blinking, it means there is an immediate issue, and will need service as quickly as possible.  
Malfunction Indicator

: 

Displays as

CHECK

below an image of an auto engine

. This is also known as the

Check Engine

light, and is the most significant of the warning lights. The check engine light notifies you of a potential issue with the electronic engine, throttle, or automatic transmission control systems. Toyota advises that failure to get immediate attention may result in a faulty operating system, and can possibly cause an accident. 

Brake System Warning Light

: 

Displays as

BRAKE

. This means there is a problem in the main brake system, either the brake fluid is low or the system is malfunctioning. A trained technician will be able to determine the issue; however, it may be unsafe for you to continue driving with faulty brakes. 

Charging System Warning Light

: 

Displays as an image of a battery.

Whether your Highlander has a low battery, a problem with the charging system, or a bad alternator, diagnostic service is required to determine the problem to avoid being stranded on the side of the road. You may also want to inquire about replacing your existing battery with a recommended

genuine Toyota battery

. 

High Coolant Temperature Warning Light

–

Displays as a thermometer in waves of liquid.

This icon notifies you when your Toyota Highlander is at risk of overheating, possibly due to low coolant levels, and can cause significant damage to your engine. To save time and money in major repairs, as well as to protect your existing Toyota Highlander investment, prompt service is highly recommended.  

Electric Power Steering Warning Light

–

Displays as a steering wheel next to an exclamation point

. This icon means that there is a problem with the Electric Power Steering System. A possible cause of this issue is low power steering fluid. There may also be a bigger problem with the power steering system not working properly, and could cause you to have an accident while driving. 
What do other warning lights on a Toyota Highlander mean? 
SRS Warning Light

appears as an icon reflecting a person sitting with a seatbelt and circle. The SRS Warning light indicates a malfunction in the airbag system, or Supplemental Restraint System. This includes both the airbags and the seatbelt pretensioners. To ensure optimal protection in the event of an accident, you will want to have a trained Toyota service technician repair this malfunction as soon as possible. 

Low Engine Oil Pressure Warning Light

shows as an icon reflecting a person sitting with a seatbelt and circle. Driving without the proper levels of clean oil can damage your SUV's engine. To maintain your Highlander at top performance, schedule your next

genuine Toyota oil change

as soon as possible. 

Tire Pressure Warning Light

displays a tire with an exclamation point in the middle. If any of your tires are low on air or your Tire Pressure Monitoring System (TPMS) malfunctions, you will need to inquire about Toyota tire replacement or repair service. A flat tire can disrupt work or family plans, as well as cause an accident. 

ABS Warning Light

displays the letters,

ABS

. This icon indicates a malfunction in the Brake Assist System, your SUV's detection system when attempting to make an emergency stop. It adds more power to the brakes.  
Where can I get my Toyota Highlander serviced in the Atlanta area?
The Toyota Service Center at Hendrick Toyota Sandy Springs offers complete car care service and repair! We're committed to providing the care and expert service that you need on your Toyota Highlander, as well as other Toyota SUV, car or truck models. Conveniently located at 6475 Roswell Road NE in Atlanta, you can schedule an appointment using our easy online Service Scheduler or simply give us a call in our Toyota Service Department. We're here to take care of all your Toyota service and repair needs. Whether you need a diagnostic test, an oil change, a tire patch repair or complete tire change and rotation, a battery replacement, or anything else, we're here to help!